First, dear friends, a warning: This recipe has no added fat - UNTIL you add the coconut milk! You can indeed make it without the coconut milk, you could fake up the coconut milk with a little coconut extract and a soy product which has less fat in it, or you can indulge. In lieu of vegan chikken I often use tempeh or pressed and marinated tofu, but this looks more authentic and the texture is pleasant.
CURRIED VEGAN 'CHICKEN' IN TOMATO & COCONUT SAUCE (SRI LANKA)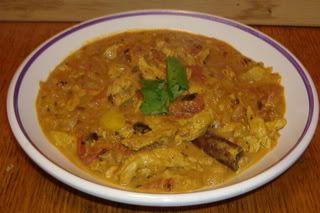 This dish was inspired by one from, I believe, Charmaine Solomon many years ago now. Her original recipe was of course not vegan in any way. I have tweaked it to suit our tastes as well as veganizing it :) Note: the dish is from Sri Lanka, and although it doesn't have the couple of dozen red chillies that I am told would have been in the original, it is still HOT and SPICY.

For two persons:

1/2 pkg fake chikken strips (or more if you're hungry), cut into bite-sized pieces

1/4 tsp fenugreek seeds
10 curry leaves (these are an aromatic leaf, used in some curries; I get mine dried)
1 onion, chopped finely
3 cloves garlic, minced
1 tsp freshly grated ginger
1/2 tsp ground turmeric
1/2 tsp cayenne or ground chillies (ADJUST to taste and expectation)
1 tsp ground coriander seed (or a little more if you really love this taste)
1/2 tsp ground cummin
1/4 tsp ground fennel
2 tsp paprika
salt to taste (1/2 tsp to 1 tsp, but remember the chikken strips are salty and so might the tomatoes be)
1 Tbsp vinegar
1/2 a 14 ounce can of chopped tomatoes, with juice (sodium-reduced if possible)
5 cardamon pods, gently hit to slightly split them
1/2 stick cinnamon
2 big strips lemon zest or 1 stalk fresh lemon grass if you have it
1/2 can thick coconut milk
GARNISH: Lemon or Lime wedges, cilantro (coriander leaves), etc.

Over medium high heat, in a pan to hold the whole recipe: Cut the fake chikken into bit-size pieces and set aside.

Put the ingredients up to (but not including) the tomatoes in a little stock and let them soften and mix their flavours. Stir well.

Now is the time for the rest -

Add the tomatoes, whole spices and lemon zest (or lemon grass), lower the heat to a simmer and cover the pan for around 10 or fifteen minutes or so.

Add the pieces of fake chikken and make sure the pieces are well coated. Warm them through. Then, shortly before serving add the coconut milk and stir BUT do NOT cover the pan while you warm the dish (the dish will otherwise curdle).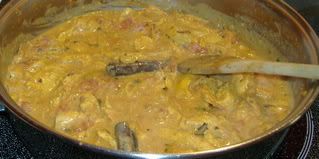 Serve with rice and appropriate accompaniments and enjoy!