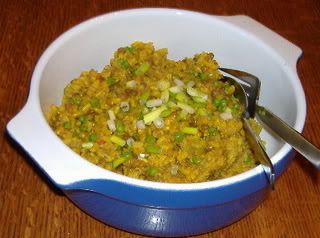 KITCHEREE WITH KAMUT

'Kedgeree' is an Anglo-Indian dish which is most definitely not vegan. The Indian version is variously spelled, including 'kitcheree'. It is essentially a lentil and rice dish with various Indian spices. Kitcheree can of course have several vegetables added to it, but the basic recipe makes a lovely breakfast, brunch or supper dish. Leftovers are delicious, which is why I prefer to leave most vegetables out (so they won't get mushy on reheating).

For this version, I have used kamut to replace some of the rice and have omitted any oil which might otherwise be used in the cooking of the onions, etc. To remind myself of childhood kedgeree, I have added green peas at the end; they give a nice fresh flavour and add yet another texture. The kamut adds an extra dimension to the dish, giving another interesting flavour and a wonderfully slightly chewy texture. I shall make it this way again.

I don't claim any of this to be 'authentic', but it does taste very good. It is, however, very hot and spicy, and those unused to eating chilies and other Indian spices such as ginger, garam masala, etc., would be wise to treat the ingredients with extreme caution and add them a tiny bit at a time until an acceptable degree of heat is met.

We had it for lunch today - with, er, more spicy heat than is indicated here, added at the end in the form of cayenne pepper.

Serves 4 generously.

INGREDIENTS:
THESE to be prepared ahead of time:
1 cup cooked kamut (soaked overnight and then cooked around 90 minutes - I made a batch and set aside the rest so I could put it in other recipes.)

1 cup cooked brown lentils (I had these ready in the freezer; they were at the 'just-cooked' stage so that they would bear reheating)

THESE to go first in the pan for the kitcheree:
1 medium onion, finely chopped
2 ribs/stalks of celery, finely chopped (about half a cup)
1 carrot, grated (I had about 3/4 cup)
1 large cloves of garlic, minced
1-inch piece of fresh ginger root, minced
2 hot chilies, finely chopped (choose your poison: I use those hot Thai chilies)
1 tsp turmeric
1 tsp garam masala (your own mix or a commercial mix)
3/4 tsp ground cumin
1/2 cup brown basmati rice (or ordinary brown rice would be fine)
2 cups water or more, depending on heat, size of pan, etc.
1 cup frozen green peas (to be added near the very end)
salt to taste
Garnish: chopped green onions

METHOD

Heat a large pan on medium-high, add the onion, celery, carrot and cook with a little water or stock until they onion starts to go translucent and the other vegetables are softened. Add the garlic, ginger and chilies, making sure they do not burn. Add a little more water, if needed, then add the turmeric, garam masala and , cumin and stir it all around to mix well. The spices should smell heavenly!

Now add the rice, the kamut, lentils and the water. Bring the mixture to the boil and then cover and lower the heat so that it simmers on low for around 45 minutes (depending on the kind of rice you use and its needed cooking time).

Check half way through to stir and make sure that it isn't becoming too dry (this will depend on the pan you use and the heat setting).




When cooking time for the rice is up, stir well and, if there is excess liquid in the pan, let it boil off for a tiny while, stirring carefully to make sure it doesn't stick.

Salt to taste and add the frozen peas, stir well, and replace the lid for a couple of minutes to let the peas just warm through.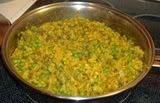 Transfer to serving dish, garnish and serve. We had it with some broccoli and a side salad, but it is fine served alone as a light meal.