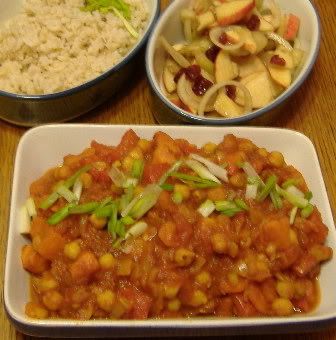 This recipe is adapted from one in Neal Barnard's Turn Off The Fat Genes (2001), p. 285. Recipes are by Jennifer Raymond.

We halved the recipe, and found that we needed to do quite a bit of fiddling with the spices to get the flavour balance right for us. We also substituted tomato sauce for crushed tomatoes, giving a stronger tomato flavour :)

SWEET POTATO AND CHICKPEA CURRY

1 Tbsp 'lite' soy sauce
1 small onion, sliced
1 cup diced sweet potato
1 medium carrot, thinly sliced
1 medium celery stalk, thinly sliced
1/2 red bell pepper, diced
7 ounces (or about half can) tomato sauce (original asked for crushed tomatoes)
1 cup cooked chickpeas/garbanzo beans
1 tsp brown mustard seeds
1/2 tsp turmeeric
1 tsp cumin
1 tsp coriander
1/2 tsp dried ground ginger
1/4 tsp cayenne powder

Brown basmati rice for serving, cooked.

Heat 1/3 cup water and soy sauce and add the oniion and sweet potato. Cook on high for around 5 minutes. Add carrot, celery, and bell pepper and cover for three minutes or so.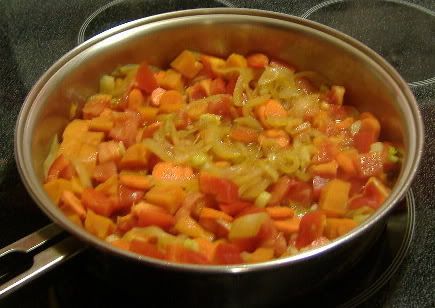 Add the tomato sauce (or crushed tomatoes if you prefer), chickpeas and about 1/3 cup water and stir. Add the spices and stir to mix well. Cover, reduce heat to medium, and continue to cook, stirring occasionally. You may need to add a little more water to prevent the mixture sticking to the bottom of the pan.

When the vegetables are tender (around 10 or 12 minutes), your curry is ready to serve with the cooked rice and a salad of your choice. Serves 4.

APPLE SALAD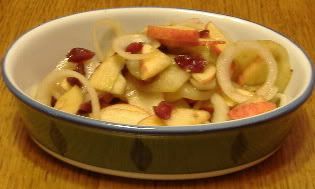 My APPLE SALAD (above) was a simple one:
1 sliced apple, some thinly sliced raw onion rings, a little thinly sliced cucumber and a spoonful of craisins
dressed in a seasoned rice vinegar and balsamic vinegar (equal amounts)
- but you could make it as elaborate as you please :)