While I was still using up those jarred red peppers (they did go a long way - good value!), I made this soup a few days ago. It was surprisingly good - and I'm not a big fan of carrots. The recipe is adapted from one by Jennifer Raymond in Neal Barnard's
Eat Right, Live Longer
, changed for a quick and easy version with a little more zip.
CARROT AND ROASTED PEPPER SOUP
1/2 yellow cooking onion, chopped
3/4 pound peeled baby carrots, chopped
2 cups water
3 or 4 roasted red peppers from a jar
2 cups low-fat soymilk
1 Tbsp balsamic vinegar
1 Tbsp freshly squeezed lemon juice
dash cayenne
freshly ground black pepper to taste
salt to taste
Cook the onions and carrots in a saucepan with the water until carrots are done (15-20 minutes, depending on how large the pieces of carrot are).
In batches, put the contents of this saucepan into a blender with the roasted peppers and a little of the soymilk so that it blends easily.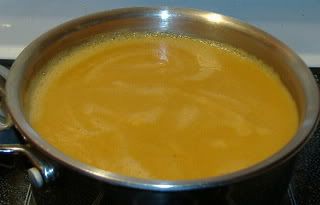 Return the blended carrots, onions and pepper puree to the pan along with the rest of the soymilk if not all used in blending. If soup looks too thick (depends on how much cooking liquid you had left in that pan), add a little water to get it to the desired consistency, but soup should be thick and creamy still.

Add the balsamic vinegar, lemon juice, cayenne, pepper and salt, stir well, reheat and serve.

Serves 4.