I've always loved corn bread, but I don't exactly like the traditional amounts of oil that go into the preparation of it. Recently, I heard of (and tried) a recipe that substituted a mashed banana for all the fat in the regular recipe (banana cornbread????) and it was delicious. I'll do that again!
Today, I tried a different version - one from one of Neal Barnard's books. It takes a cup of cornmeal but instead of the one-and-a-half cups of wholewheat (or all-purpose) flour, it uses barley flour. I thought 'HUH?' But, never having been misdirected by one of his recommended recipes yet, I gave it a go:
And it was exactly right after 30 minutes. Indeed, we had it a matter of moments later with a great quick bean recipe (same source). Here it is, still steaming hot, crumbly and smelling absolutely wonderful (and tasting even better) at 125 calories a piece, no fat.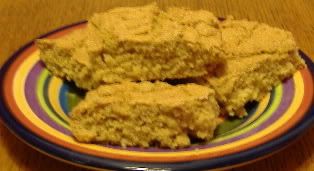 The beans? It was your standard chilied beans, without fat or oil: a chopped onion, a chopped red pepper (because we were out of green), a cup-and-a-half of red kidney beans, a couple of cups of tomato sauce (opened a can from up the cupboard to be quickest), 1 cup tvp granules, 1 cup of frozen corn, plus chili seasonings (faked up my own, because we didn't have the requisite 2 spoons of chilie powder), more cayenne (always more!) and 3 cloves garlic - all cooked nicely in no time at all. When the bread was out of the oven, the beans were ready to serve.