Sometimes this bread, like other breads, is a little temperamental. Yesterday it was having a bad hair day, but the results were very very tasty if not exactly perfect.
There are all kinds of ways of getting or making a sourdough starter, it seems, and everyone has their own 'Only Use' formula. I decided to keep it simple last October. I made my own sourdough starter from instructions in Barnard and Kramer's
How It All Vegan
(1999), p. 121. It's simple - no yeast, just flour and water. 1 cup of wholewheat and 1 cup of water stirred together in a clean dry jar and covered with a cloth for 3 to 5 days in a warmish place, out of a draft, for 3 days (or they say up to 5) but mine was ready sooner. You stir it every 12 hours. It will bubble and smell sour, after which it can be stored in the fridge in an airtight container. Use it once a week OR if you can't do that each week, remove half a cup of starter and replace with half a cup each of flour and water, stir well, let sit out a few hours and return to the fridge. (More details in the book - or available on the net.)
The bread recipe is equally simple. This is simply halving the recipe (there are just two of us so I only make one loaf at a time - and cut that in half and freeze the other half) and changing a few of the method details.
WHOLEWHEAT SOURDOUGH BREAD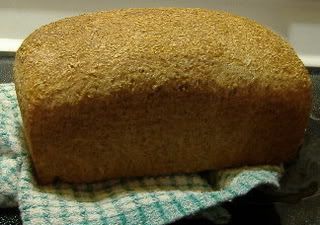 With all ingredients at room temperature, the evening before you want to bake the bread -

Sift together:
3-1/2 cups wholewheat flour (they suggest wholewheat pastry flour)
1 tsp salt
3 Tbsp instant gluten

Add:
1/2 cup or more (depends on your starter, you have to figure this out as you work with it)
1-1/4 cups water (depends on how wet your starter is - you may need a little more or less, so don't use all at once)

Mix carefully, adding the water, until all the ingrediets are in a nice semi-sticky mess. Knead it a little in the bowl then turn out onto a lightly floured board and knead until it is smooth. I usually knead for around 10 minutes, depending on the mood of my ingredients, the weather and the configuration of the stars (joking with the last, but not with the first two). As with any bread, you will need another handful of flour to help with the kneading process.

Place kneaded dough into a lightly oiled/sprayed ceramic bowl, rolling it around until it's all lightly covered in a film of the oil. Cover with a clean tea towel and set in a warmish place to let dough rise overnight or at least 12 hours.

Next morning, check the bread - it should have doubled in size. Punch it down and return it to the board to knead for another 5 minutes. Put in a prepared loaf pan. (You can also shape into a round and place on a cookie sheet, but I don't). Cover with the tea towel and let it rise until the dough doubles in size again - about 6 hours.

Place in a pre-heated 375F oven for around 50 minutes or until golden. Test with knife to see if done.


Here is my offering of yesterday, cut to show the crumb. It is a lovely flavour and texture, but it lacks the 'holes' in it that are the mark of a good sourdough.



I have since found this site: The Fresh Loaf which has a good discussion on sourdough which I intend to study. Trouble is, depending on which site one visits, everyone seems to have a different idea.