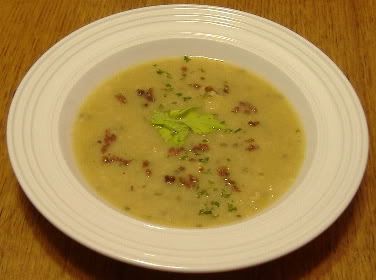 I usually make this soup in large quantities in the slow cooker, but it works just as well on top of the stove, of course. The tofu can be added or not, as a matter of choice. This particular batch I made on top of the stove and we enjoyed big bowls of it last evening.
Cheezy Cauliflower Soup (two ways of cooking)
1/2 cauliflower, chopped
1/2 brown cooking onion, chopped
2 cloves garlic, finely chopped
1 large stalk celery, strung and chopped
1 handful fresh parsley, chopped, or 1 Tbsp dried
1 potato, chopped (around 5 ounces weight)
4 cups water or vegetable stock
1 pkg soft silken tofu (optional)
1 Tbsp Braggs liquid
2 Tbsp nutritional yeast flakes
pinch cayenne
1 Tbsp vegan worcestershire-style sauce
pepper and salt to taste
Garnish: chopped parsley and/or celery leaves, chopped chives, vegan bakon bits, etc.
Bring the water or stock to the boil. Add the cauliflower, onion, garlic, celery, parsley and potato, bring to a boil, reduce heat to simmer, cover and continue to cook on simmer until the vegetables are soft. Depending on how small you chopped the vegetables, this could be 10 to 20 minutes. Test a piece of potato to see.
NOTE: For the slow cooker version, place the ingredients as above into your slow cooker or crockpot on high for around 3 hours. Return the blended vegetables to the crockpot still set on high and reheat with the rest of the ingredients for around 20 minutes or until JUST hot.
When done, remove a couple of scoops of the vegetables from the soup and set aside. Blend the rest of the vegetables and stock in batches in a blender. If you use the tofu, add it to the blender along with the soup. (You could of course use a blender wand instead, leaving some vegetables unblended for texture.)
Return the blended soup to the pan, add the vegetables you set aside, set over medium-high heat, and take this opportunity to add a little more water or stock to bring the soup to the desired consistency. This will be depend on your pan and the stove heat - more liquid may have evaporated in the cooking than you prefer. Also, if you choose to use the tofu, the consistency will have changed. Soup should be creamy in substance.
While bringing the soup back to the boil, add the Braggs, nutritional yeast, cayenne, worcestershire sauce, pepper and salt, and stir well. Taste for seasoning and adjust if neeeded.
Garnish and serve with your favourite bread, quickbread or biscuits.