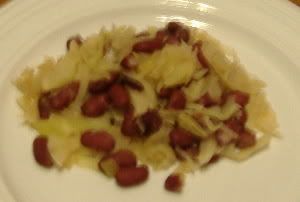 SWEET AND SOUR CABBAGE WITH KIDNEY BEANS

Quick and Easy. Serves 2. Can be doubled, tripled, etc., as needed.

This is adapted from Donna Klein's Vegan Italiano.

1 medium onion (about 4 or 5 ounces)
1/2 lb cabbage, finely shredded
12 cup vegetable stock (homemade if you have it)
1 cup cooked red kidney beans (I like the dark red), drained (or use half a can, drained)
2 Tbsp red wine vinegar (I use Eden brand)
1 Tbsp turbinado sugar
a few grinds of fresh black pepper
salt to taste

Put the onion together with 1/4 cup water or so in a skillet over medium-high heat and
cook until onions soften, stirring the while (about 4 or 5 minutes). Add the cabbage and the stock, bring to the boil on high, then reduce to a simmer and cover, stirring now and then, for
around 12 to 15 minutes or until the cabbage is tender. It shouldn't be mushy.

Remove the lid and, if necessary, return to high heat in order to evaporate any excess liquid.

Now add the beans together with the remaining ingredients, stirring until the beans are hot and there is no liquid remaining. This will take a couple of minutes only.

Taste for seasonings and serve over rice, polenta, or grain of your choice. It also tastes remarkably good chilled, so any leftovers make a handy salad dish without further ado. Reheats nicely too!