Today I tried a recipe from fatfree.com for a Roasted Red Pepper Pasta Sauce. I had wanted to use up the jar of roasted red peppers I had started a few days ago (for the Rotini, remember? - Rotini with Broccoli & Tomatoes) - and so googled and scouted around a bit. What I found was Mikes roasted red pepper pasta sauce which would use up all but three of what I had left. Made with already-roasted peppers, this was a Quick-and-Easy Fix for lunch.

It took two red bell peppers per person, so for two of use I used 5 of the jarred peppers, plus garlic, onion, sundried tomatoes, herbs and balsamic vinegar. Got all that!

I did as was asked - except my peppers were already roasted - and blended the ingredients, adding in some of the tomato soaking liquid as suggested. heated it and seasoned it and there it was, in no time at all!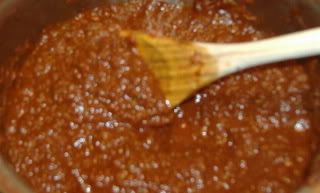 It was thick and beautiful and tasted wonderful!

We had it with wholewheat penne and a side salad. A great lunch.